Introduction
---

Thanks to a constant collaboration with its clients, most of them famous shipyards such as NAVAL GROUP, NAVANTIA, KOCKUMS AB, BAE SYSTEMS, DSME, HII, or Energy clients such as AREVA, EDF, ALFA LAVAL, OVIVO or others markets with clients such as CRISTAL UNION, ARCELOR MITTAL, IHC, Fapmo has developped experience and technologies unmatched in the world for centrifugal pumps.
Based on its great experience and technologies, Fapmo design department is able to work on all the requirements under any specific standards in order to meet Customers needs.
Furthermore, Fapmo has the rare ability to perform all the tests needed in order to prove Customers criterias are met.
Examples of Pumps and characteristics
---
Submarine and surface ship pumps
Depending on the requirements and pumps, Fapmo can commit (and prove) on some of the following characteristics :
Ability to withstand shock > 120g
Low pressure fluctuation level on the whole range of the pump operation
Very low vibration and noise (<< 55dB)
MTBF > 10 years
Self priming bilge and ballast pumps working in any position of the boat
100% compliant under any standards
Compacity : approx 30% less with canned motor
High efficiency pumps with low electrical consumption
Non magnetic pumps
Fapmo is also able to create a co-conception program with Customers in order to improve or develop a specific technology.
Example of centrifugal pumps we provide for submarines and surface ships :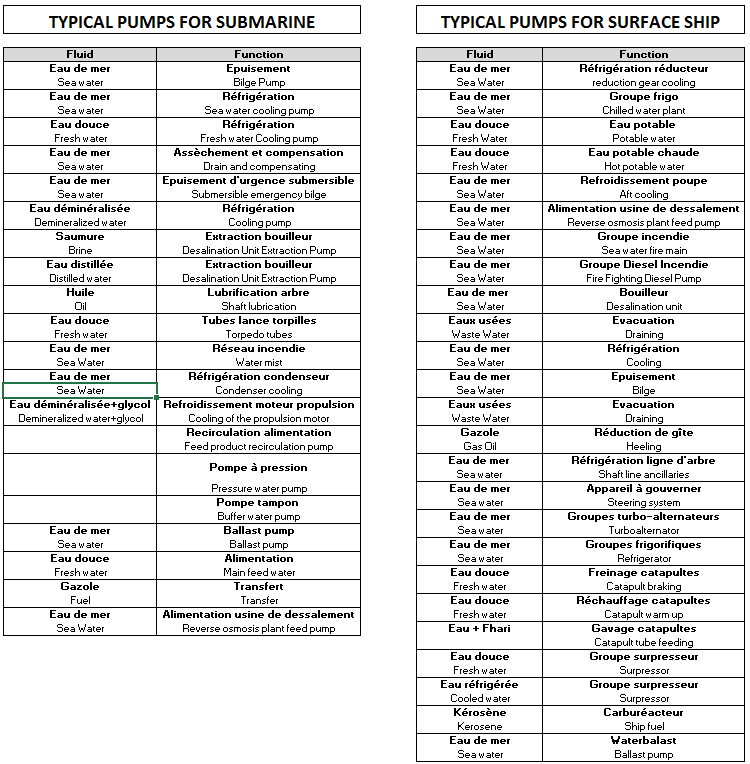 Civil pumps
Based on its experience and products, Fapmo provides :
High efficiency pumps
Ability to withstand high temperature (>>270°C)
Capability to work with slurry liquids, ashes, brine, abrasive, acide, phosphate etc…
100% compliant under any standards (ASME, RCC-M….)
High pressure "back to back"
High flow and large diameter
Very low NPSH
Materials
---
Typical materials handled for all Fapmo pumps are the following :
Titanium
Composite
Cast iron
Nickel alloy
Hastelloy
Duplex/Superduplen
Aluminium bronze
Ni resist cast iron
Uranus
Special steel if required
Technologies
---
Fapmo masters all type of technologies for our pumps :
Magnetic driven pumps
Wet rotor pumps (canned)
Multistage pumps
Self priming pumps
Submerged pumps
Close coupled pumps
…
Fluids
---
Below example of fluids Fapmo used to deal with :
Fresh water
Sea water
Demineralizer water
Water with ashes
Phosphate
Acide
Brine
Grey water
Abrasive slurries
Ammonia
Hot water (>270°C)
Muddy water
Water +sand/silica/chalk
Cement
Potash
Magnétite pulp
Phosphogypsum
Coal pulp
1rst carbonization juice
Vacuum